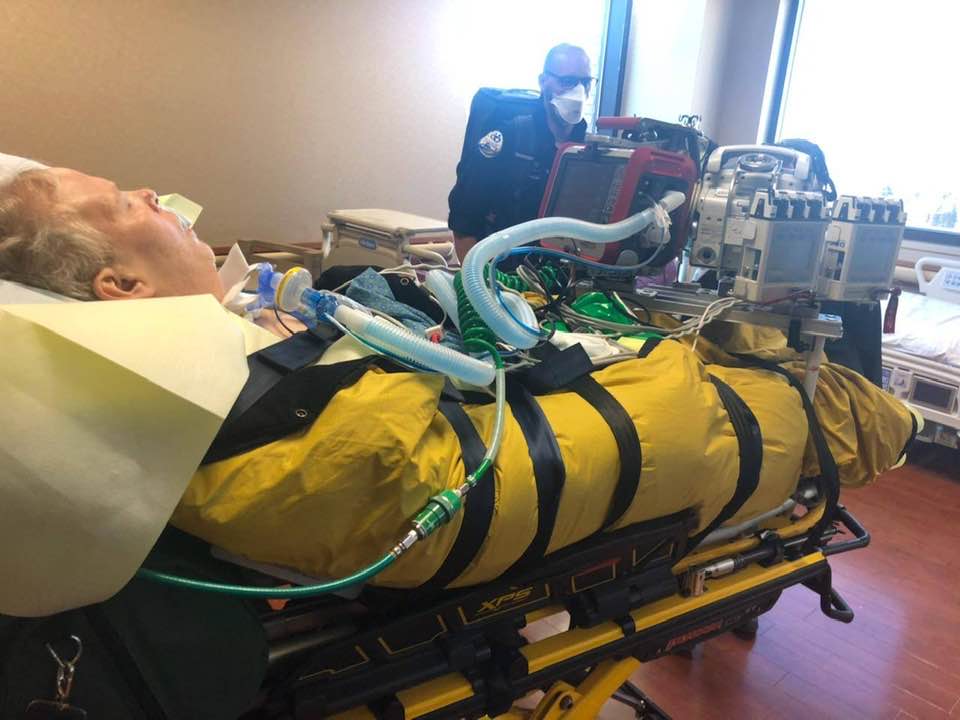 Via The Minneapolis Star-Tribune
Scott Quiner, 55, of Buffalo, was flown from the Twin Cities to Texas over the weekend, an attorney representing the family said. Scott Quiner's case drew widespread attention last week after Mercy Hospital said it would disconnect the ventilator on Thursday. Quiner, who was unvaccinated, had been in the hospital's ICU since Nov. 6 with critically low oxygen levels and had shown little signs of improvement since his arrival.
Quiner's wife, Anne, went to Anoka County court seeking an emergency restraining order to prevent Mercy from disconnecting the ventilator. Without a judge's decision, "my husband will die," Anne wrote in her petition seeking the court's action. A GoFundMe has pulled in more than $28,600 as of Monday morning. A second fundraiser on the Christian crowdfunding site GiveSendGo was seeking to raise $100,000. As of Monday, the effort had brought in $41,000
Of course anti-vax extremists and QAnon/Trump loons are besides themselves and Quinner's wife wants to keep giving him futile care while taking up an ICU bed in a pandemic so she can give him ivermectin and vitamins.
I'm sure everything will turn out just fine. (No it won't)
Scott Quiner didn't listen to science and refused to get vaccinated. He's been dying in a hospital since October. Now his family is insisting that science save him, even going as far as having him transferred to Texas.

Getting vaccinated was easier, was it not? 🤷‍♀️

— Brittany (@brit_reads) January 17, 2022
Hospitals are being paid BIG MONEY to KILL YOU. This doctor BLAMING him as SHE MURDERS HIM is an absolute joke!

MERCY HOSPITAL
763-236-8800

The doctor's emails that are refusing to save Scott:

Ryan.else@allina.com

Linda.soucie@allina.comhttps://t.co/YnLE7x16Oy

— 🇺🇸#IWon'tComplyEVER 🔥 (@GreatAwakenin14) January 13, 2022