The Hill reports:
CNN is adding a new group of political contributors and commentators, including a former presidential candidate and a reporter who shot to prominence covering President-elect Donald Trump. Former Sen. Rick Santorum (R-Pa.), who ran for president in 2012 and 2016, is joining the network as a political commentator, along with former Rep. Steve Israel (D-N.Y.) and former Michigan Gov. Jennifer Granholm (D).

The Washington Post's David Fahrenthold and Wesley Lowery will be joining as contributors, along with J.D. Vance of National Review and Salena Zito of the Washington Examiner. Fahrenthold in October broke the story of Trump's "Access Hollywood" video, in which he brags about sexually assaulting women. He also investigated Trump's claims of charitable donations.
I guess CNN really is fake news.
Fuck you CNN.  Just Fuck You.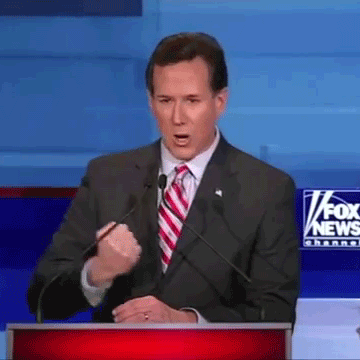 Rick Santorum's Top 10 Anti-Gay Comments
*"Every society in the history of man has upheld the institution of marriage as a bond between a man and a woman. Why? Because society is based on one thing: that society is based on the future of the society. And that's what? Children. Monogamous relationships. In every society, the definition of marriage has not ever to my knowledge included homosexuality. That's not to pick on homosexuality. It's not, you know, man on child, man on dog, or whatever the case may be. It is one thing. And when you destroy that you have a dramatic impact on the quality." (2003)

*"If the Supreme Court says that you have the right to consensual sex within your home, then you have the right to bigamy, you have the right to polygamy, you have the right to incest, you have the right to adultery. You have the right to anything. Does that undermine the fabric of our society? I would argue yes, it does." (2003)

*"I guess because you stand for traditional marriage and you believe that, you know, that people should, we should have a society that affirms one man and one woman as marriage, that makes you someone who's a hater, someone that doesn't, doesn't like people. I disagree with people, by the way, who are gay and straight who believe in changing the marriage laws. But it's a public policy discussion, and this is the, this is really the problem that we see on the left which is the personalization of politics. I mean, we have a policy disagreement, and, and which I am very passionate about. I admit that. Because I do believe the family, integrity of the family is important for the future of our country. But that does not mean that, that I don't like people or I hate people or that there's something wrong. The only thing that's wrong is their opinion." (2011)

*"But what I can say is that the state is not doing a service to the child and to society by not putting that child in a home where there is a mother and a father. This is common sense. This is nature. And what we're trying to do is defy nature because a certain group of people want to be affirmed by society. And I just don't think that's to the benefit of society or to the child." (2011)

*"Is anyone saying same-sex couples can't love each other? I love my children. I love my friends, my brother. Heck, I even love my mother-in-law. Should we call these relationships marriage, too?" (2008)

*"I'm worried when many people will stand up and say, 'well whatever the Generals want.' I'm not too sure that we haven't indoctrinated the Officer Corps in this country that they can actually see straight to make the right decisions." (On repealing Don't Ask, Don't Tell) (2011)

*On gay adoption: "A lesbian woman came up to me and said, 'why are you denying me my right?' I said, 'well, because it's not a right.' It's a privilege that society recognizes because society sees intrinsic value to that relationship over any other relationship." (2011)

*"I certainly would not approve of [a bill moving through the California legislature compels the state to add gay history to the state education curriculum], but there's a logical consequence to the courts injecting themselves in creating rights and people attaching their legislative ideas to those rights that in some respects could logically flow from that. So I'm not surprised." (On teaching LGBT history in schools) (2011)

*"I would argue, this right to privacy … doesn't exist in my opinion in the United States Constitution, this right that was created, it was created in Griswold — Griswold was the contraceptive case — and abortion. And now we're just extending it out. And the further you extend it out, the more you — this freedom actually intervenes and affects the family. You say, well, it's my individual freedom. Yes, but it destroys the basic unit of our society because it condones behavior that's antithetical to strong healthy families. Whether it's polygamy, whether it's adultery, where it's sodomy, all of those things, are antithetical to a healthy, stable, traditional family." (2003)

* " I have no problem with homosexuality. I have a problem with homosexual acts. As I would with acts of other, what I would consider to be, acts outside of traditional heterosexual relationships. And that includes a variety of different acts, not just homosexual. I have nothing, absolutely nothing against anyone who's homosexual. If that's their orientation, then I accept that. And I have no problem with someone who has other orientations. The question is, do you act upon those orientations? So it's not the person, it's the person's actions. And you have to separate the person from their actions." (2003)

"In this case, what we're talking about, basically, is priests who were having sexual relations with post-pubescent men. We're not talking about priests with 3-year-olds, or 5-year-olds. We're talking about a basic homosexual relationship." (On the Catholic Church's international pedophile priests scandal, in which, for decades, priests have sexually assaulted, molested, and raped young boys and girls.) (2003)