I always try to find people that stand out and exemplify what an advocate for the LGBT community that don't get enough recognition. And creator, writer of the STARZ hit Spartacus series Steven DeKnight is one of those people. He doesn't do it as some in thing to do. He supports LGBT rights because like us, he knows that they are human rights. The Buffy the Vampire Slayer/Angel writer does an incredible job as a straight man illustrating gay men and women because he understands that we the same as everyone else.
DeKnight has dealt with relentless homophobia from so called fans of the series because of the fearless approach he takes in developing LGBT characters and their love lives. Most notably the homophobia comes as a result of the story of Agron And Nassir, two men that are high ranking generals in Spartacus' rebellion against Rome. Some fans have been bold (or ignorant or both) to criticize how authentic the relationship is because of their love scenes as well as day to day interactions that every couple have each day.
DeKnight is quick to call out homophobia on twitter. Usually with a quick quip or flat out blunt honesty, he gets across that he is not a fan of bigotry or hate in any form. Even today he commented on an asinine tweet asking him to diminish the gay soldiers' role on the hit tv drama. Here's a few examples you can see on his twitter page:
He even takes the naysayers to task on Facebook, setting boisterous derelicts with nothing better to do than to disparage how two people should be able to express love to each other in whatever way they so choose: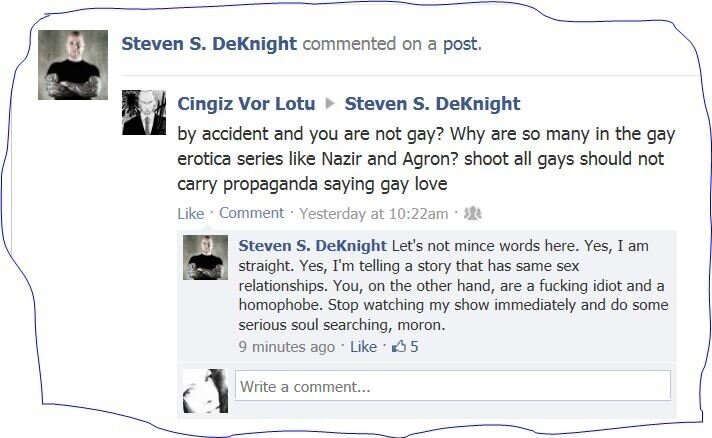 It's not hard to find examples of DeKnight's honesty and compassion for equal rights. And that is what makes him an advocate and an ally to our community.  Thanks again Steven for all that you do. Gratitude.
..plus he's worked with Joss Whedon so that makes him extra cool.