Gay History – May 25, 1977: The Deadly Fire At NYC's Everard Baths. 9 Men Killed, 9 Injured.
The Everard Baths was a Turkish bath founded by financier James Everard in 1888 in a former church building. Everard also operated the Everard brewery on 135th Street. He converted the building located at 28 West 28th Street in New York City into a bathouse. Everard's originally intended it to be for general health and fitness. But 30 years later that would change.
On January 5, 1919, the New York Society for the Suppression of Vice encouraged a police raid in which the manager and nine customers were arrested for lewd behavior. It was raided again in 1920 with 15 arrests
By the early to mid 1920's it became the community's preeminent social venue and had the reputation of being one of the "classiest, safest, and best known of the baths" eventually picking up the nickname The "Everhard"
A visitor to The Everard described his experience there in 1927:
Up some stairs at a desk an ashen bored man in shirtsleeves produced a ledger crammed with illegible scrawls. I added mine, paid my dollar, was handed a key, towel and robe, hung the key on my wrist and mounted to a large floor as big as a warehouse and as high: intersecting rows of private rooms each windowless cell dark except from the glimmer from above through wire-netting shredded with dust and containing a narrow workhouse bed…[he later heard] a casual whisper, a sigh lighter than thistle-down, a smothered moan. Then appeasement: the snap of a lighter as two strangers sat back for a smoke and polite murmured small talk, such as they might exchange in a gym
Over the next 50 years Everard patrons included such notables as Alfred Lunt, Lorenz Hart, Charles James, Gore Vidal and Rudolf Nureyev and Truman Capote.
On the quiet morning of May 25, 1977 nine patrons aged 17 to 40 years old were killed, and nine others were injured when an out of control fire swept through the establishment. Seven died from smoke inhalation, one from respiratory burns, and one man who jumped from an upper floor.
Via the New York Daily News:
Police said a fire had started about 6 a.m. in a mattress and patrons extinguished the flames themselves. But the mattress apparently smoldered and the fire erupted again about an hour later in the same room. Electricity was cut off by the fast spreading flames, leaving patrons trapped and screaming in dense smoke.

As the flames engulfed the brick building, scores of male customers ran into the street in towels, underwear or trousers.

When the first of some 200 firemen and 32 pieces of equipment arrived shortly after 7 a.m., some of the occupants were hanging from the windows, crying for help.

Three stories of the rear portion of the building collapsed as firemen searched for victims.

"It all happened so fast," said Michael James, 29, who said he had driven up from Philadelphia Tuesday evening. "I was in Room 242, and I was awake. It was just after 7 o'clock so I figured I'd wake Christopher, my friend, so we could get started on the drive back."

"When I opened the door I could see a red glow coming from underneath the door of the room across the hall. I could smell something burning, so I ran down to the lobby and yelled to the man at the desk that there was a fire.

"I tried to run back to the room to get my things, but the maze of hallways had filled up with smoke. People were yelling, 'This way down! This way down!' I only had a towel around me, but I had to leave."
The fire spread rapidly through the building which was filled with 6 1/2 foot-by-4-foot wooden cubicles separated only by partitions. By the time firemen arrived at the scene on West 28th Street flames were roaring through two floors of the bathhouse. Many occupants ran onto the street wearing only towels. Some were injured jumping from the third floor. About a dozen others were brought down from windows by firemen.
Fire officials said firemen had to hack their way through into the inside since many windows had been sealed with sheet rock or asbestos
All in all between 80 and 100 patrons left the building; nobody knows the exact number of men who were inside the club because it did not have registration book and at the time in 1977 many patrons did not want to be publicly identified .
Most of the dead were identified by friends rather than family.
In the aftermath Fire Commissioner John O'Hagan's men found a number of spent fire extinguishers in the charred ruins of the two upper floors. A sprinkler system had been installed at the baths but was not hooked up to a water supply. The bathhouse had been ordered to install the sprinkler system a year ago, but the deadline for its operation was not until July 27th. of that same year.
Despite the tragedy and the total destruction of the top two floors The Everard Baths would be rebuilt and stay open for another nine years until April of 1986. It would eventually be closed down by New York City Mayor Ed Koch during and the city's campaign to close gay sex venues during the AIDS epidemic.
List of the Fatalities:
HILLMAN WESLEY ADAMS, 40, South Plains, New Jersey.
AMADO ALAMO, 17, Manhattan.
ANTHONY CALARCO, Bronx.
KENNETH HILL, 38, Manhattan.
BRIAN DUFFY, 30.
PATRICK KNOTT, 38, Manhattan.
IRA LANDAU, 32, Manhattan.
YOSEF SIGNOVEC, 30, Czech.
JAMES CHARLES STUARD, 30, Manhattan.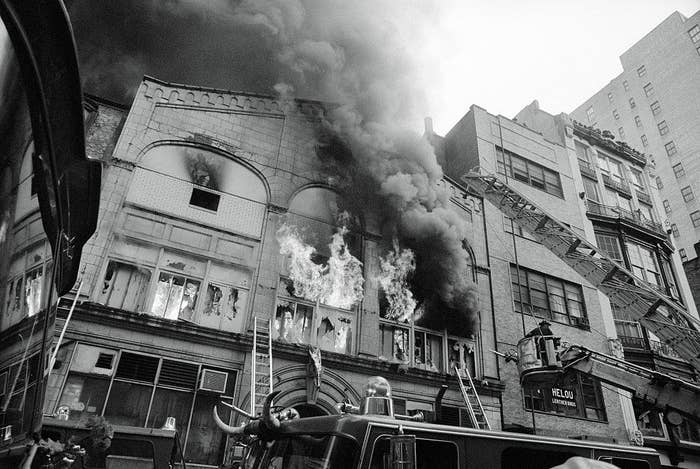 *** *New York Times article May 27, 1977: (Notice how the article goes out of its way to name the men who were killed and injured effectively outing them at a time that was very dangerous in our history. )