Whats "Too Gay" Today? – Marcel Vigneron Cooks, Gay Guide TOO GAY For iPhone App, Disney Get's Male Faries and A CHELSEA HANDLER SEX TAPE!?
* The iPhone app "Gay New York: 101 Can't-Miss Place," was rejected by Apple because, it features such gay things about New York. Like go-go boys, a snapshot of a naked gay sculpture, and a picture of Sarah Palin making an ugly face. So the app's creator, travel writer Anthony Grant, manage to run afoul of Apple's rules about naked guys, it violated its "don't make fun of public figures" rules. Which is to say: Authentic apps about gay New York City will never be accepted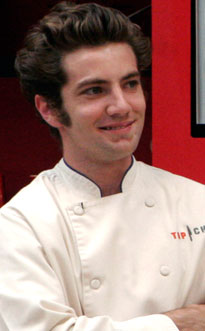 * "Maybe gay" Marcel Vigneron, that guy everyone hated from Top Chef Season 2, (Except me I thought he was kinda cute in a geeky-deeky way)
will be hosting the much-rumored Syfy Channel cooking show
, now called Marcel's Quantum Kitchen. I'm happy that Wolverine's cute baby brother got a gig. Perhaps I can get my well endowed but unfortunately straight cyberbud (And AWESOME chef) Stefan Richter to set Marcel and me up? (So go to Stefan's Restaurant,
Stefan's at LA Farm
and maybe he'll help me out. The food is awesome also!)
* Disney has added a male fairy (Sparrow Man) to its popular online world of Pixie Hollow! His name is Slate (How butch!) — and he's the joint's first "guy". Slate's also quite the metrosexual – he thinks that "Coal's Clothiers has got some great Sparrow Man threads — and my good buddy, Gavin, up in Evergreen Overlook has some amazing hats and accessories for Sparrow Men as well." YOU GO FAIRY! I mean Sparrow Man. *wink*
*Chelsea Handler Sends Her Sex Tape To Agents………No, Really! What the clip below!