On New Year's Day in 1967, undercover officers arrested 14 patrons of the Black Cat Tavern, one of a number of gay bars that lined Sunset Boulevard at the time.  The bar attracted a largely working class clientele and was nestled among a number of businesses friendly to gay men and lesbians.
According to Tangents – a local gay newspaper – "The Black Cat was happy and hooping" before undercover police arrived and started beating patrons as they were ringing in the New Year: "There were colored balloons covering the ceiling … and three glittering Christmas trees"  Moments later, "all hell broke loose." 
That night the Black Cat was packed, the barroom strung with Christmas lights. A trio called the Rhythm Queens was performing, and when the costume contest concluded at New Faces
As the clock stuck midnight balloons tumbled from the ceiling. The Rhythm Queens belted out "Auld Lang Syne," and for a moment there was time to grab a kiss. But not all the revelers were there for the same party. At five minutes after midnight, plainclothes policemen began swinging clubs and pool cues, dragging patrons out the door and into the street. They pulled the bartender over the bar, lacerating his face on broken glass. Two patrons ran across Sanborn and took cover in the crowd at New Faces, where Circus of Books now stands. Officers followed, breaking one bartender's nose, leaving another with a ruptured spleen. Sixteen people were arrested that night—six of them charged with lewd conduct, also known as kissing.
Two of the men arrested for kissing were later convicted under California Penal Code Section 647 and registered as sex offenders. The men appealed, asserting their right of equal protection under the law, but the U.S. Supreme Court did not accept their case.
On February 11, 1967 hundreds of people;  gays, lesbians, bisexuals, drag queens and straight allies gathered outside the Black Cat to protest police antagonism, harassment, and violence toward the city's gay and lesbian community.
Witness accounts indicate the demonstration was peaceful, if not a little tense because of heavy police monitoring.
While the Stonewall Riots of 1969 is the milestone that we commemorate and remember to mark of our liberation.  There are lesser remembered protests and pickets that happened before Stonewall that were just as important to our visibility and our fight for our rights that should always be remembered.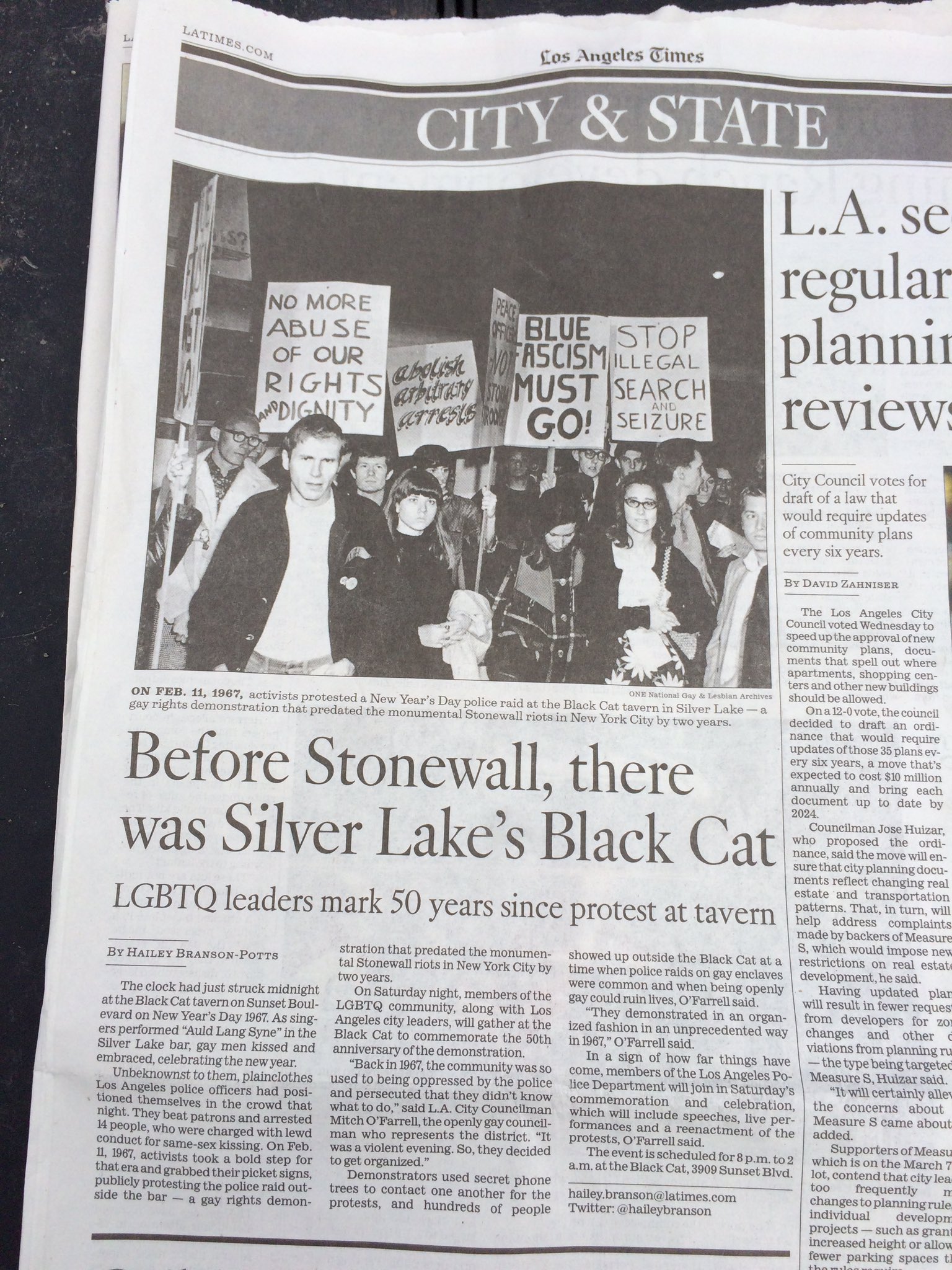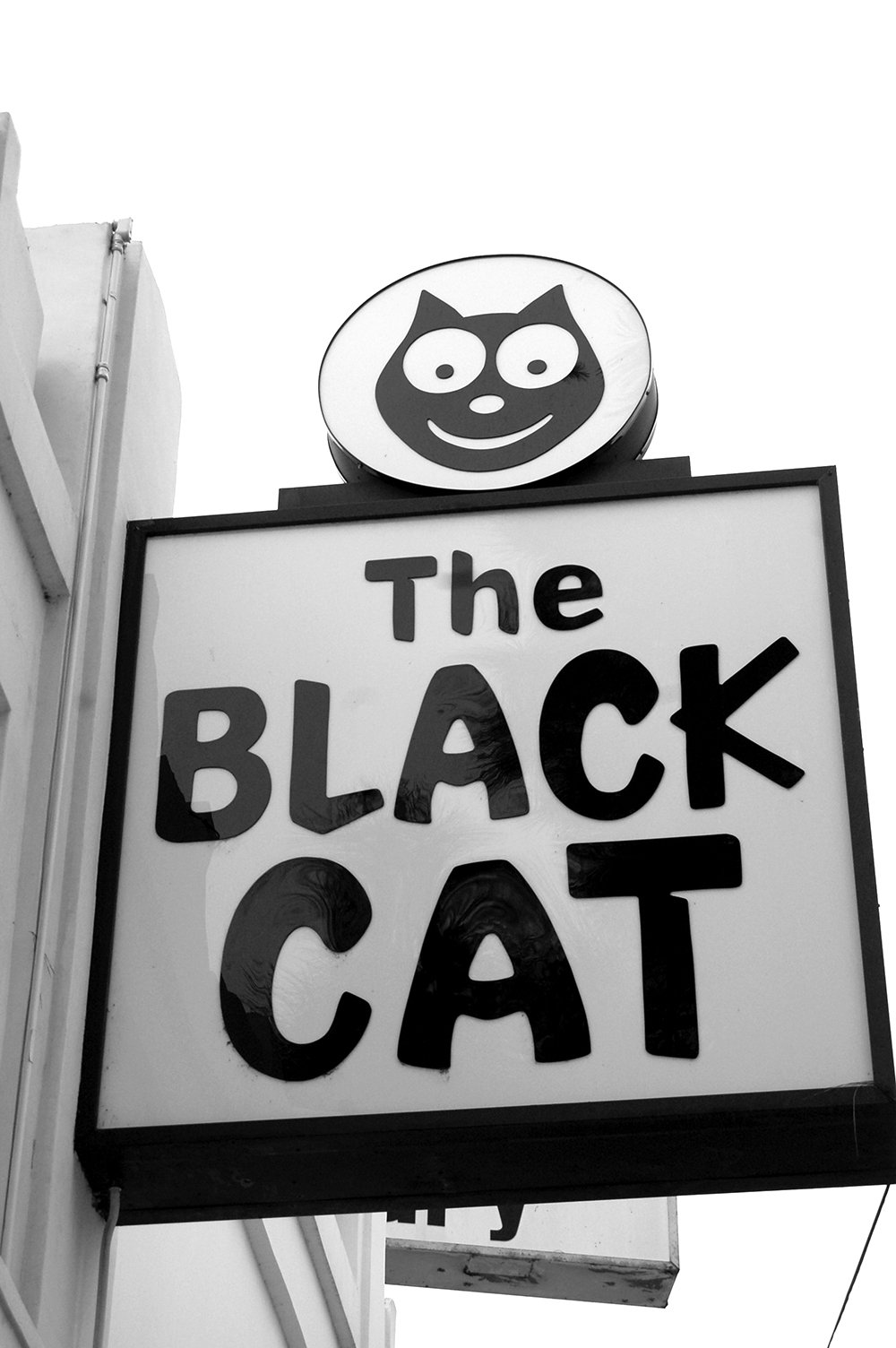 *CAN YOU HELP?
Since 2008 Back2Stonewall has strived to educate the LGBT community about our history and noteworthy news stories. I have done so out of love, pocketing all expenses for all these years to avoid annoying potentially harmful ads. But due to the overwhelming medical bills I cannot continue on without your help. (And believe me I do hate to ask) As many of you know, and many don't for the past 2 years I have been suffering with infections in first my left foot and then my right ankle which looks like it will have to be amputated in the near future. Medical bills, equipment, medications have wiped out my savings and retirement fund because I have been unable to work and disability retirement is extremely backed up because of COVID and quite simply I am out of funds to run the site or deal with my bills and mortgage.
If you can make a donation , any size to help keep Back2Stonewall and my life going it would be greatly appreciated and never forgotten.
Thank you: Will
PAYPAL will@back2stonewall.com
VENMO @Will-Kohler-1
GOFUNDME: https://gofund.me/a1ea206a