Mediaite reports:
"If you look at the map of the United States and show the hot spots, all of the hot spots are in huge Democrat cities. New York City, Atlanta, Los Angeles," Fox News host Jesse Watters said. "Not a lot of Trump voters in those cities." But take a look at the recent COVID case tracking at the New York Times, based on publicly released local data, and Watters is way off. Take a look at a map of US counties, the darker the color the hotter the COVID."
Remember due to the vaccine mandate at FOX, Watters is fully vaccinated and is basically paid to lie to people who could/will get sick and die because of COVID-19. There are literally hundreds maybe thousands of easy-to-understand, color coded maps of hot spots all over the internet. The southeast is, by far, the hottest of hot spots.
Like this: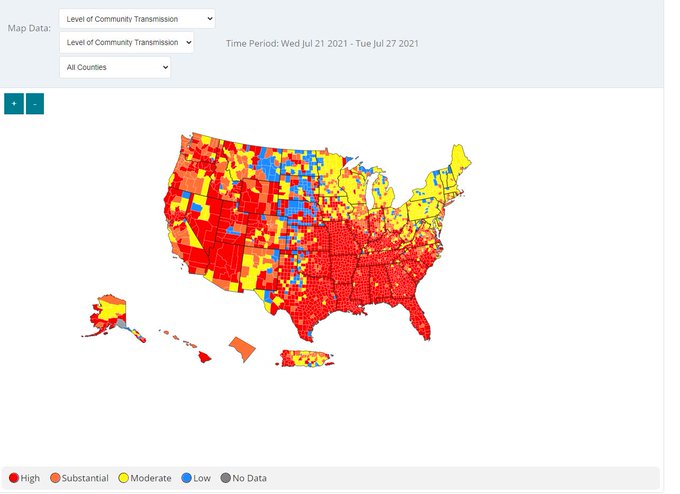 Little Rock, Arkansas, and Branson, Missouri are current Delta Variant hotspots. You know those wildly Democratic….areas?
It's becoming a question of whether Press Freedom should apply to self-proclaimed "press" entities that in fact are not press by any rational definition. Fox's foundation is built on dangerous falsehoods. Should this be allowed to continue? Of course not.
Then the question is: Why have they been able to continue and how can we stop them. Especially when peoples lives are at stake.
Fox News' Jesse Watters: "If you look at the map of the United States and they show the hot spots, all of the hot spots are in huge Democrat cities."

This is, of course, absolutely NOT true.https://t.co/unyypXSwS7 pic.twitter.com/6PjvDj9Wlw

— Justin Baragona (@justinbaragona) July 30, 2021